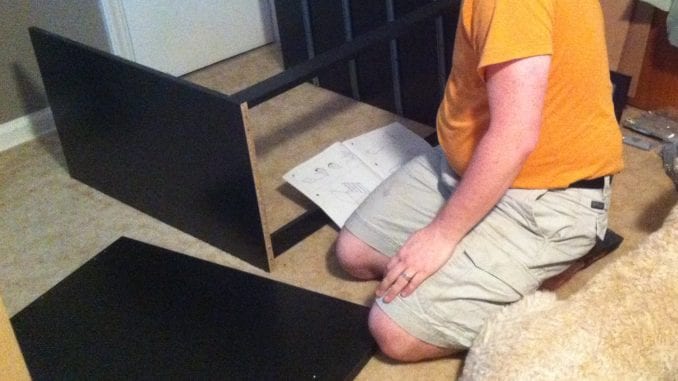 SASKATOON, SK
The Driedgers of Saskatoon just moved into a lovely new bungalow in Silverwood Heights and Dan Driedger, an accountant during the day, immediately set himself to the task of unboxing and assembling all the furniture.
"He's a really manly man," said his wife Jessica Driedger. "That's why I married him actually. He can do wonders with a sheet of instructions and an Allen wrench."
Initially Jessica suggested that maybe they could pay the extra money and get the kids at Canadian Tire to do it, but Dan insisted he was more than handy enough to put together a few sheets of particle board.
"Oba, I'm starting to get callouses on my fingers from this darn Allen key!" exclaimed Dan. "I don't know how those construction guys do it. I mean they build entire houses with this thing, right?"
According to Dan, he learned all about Allen-keying from his father, a Mennonite pastor, who passed on his Allen key prowess to his son.
"I know Dad is looking down and smiling at me with this Allen key in my hand," said Dan. "Thanks, Dad! You did well."
After a couple hours, Dan had Allen-keyed together one lone chair, but planned to Allen-key the other three by the end of the week.
"At least Jessica has a place to sit now," said Dan, proud as punch. "It's nice to feel useful."
Rumour has it that Dan Driedger's toolbox is filled to the brim with nothing but free Allen keys from all the IKEA bookshelves he's assembled over the years.
(photo credit: Emilee Rader/CC)